I thought I'd finally get around to posting pictures of the crochet projects I made as gifts this past Christmas. I made dish towels and homemade soap for most of the gift baskets. I also made two baby bibs for Stephanie's son Braydon. Unfortunately, however, I don't have any pictures of the biggest project I worked on which was a crocheted purse for Darcy. Maybe I can have her pose with it next time I see her!
Anyway, just realize I am kind of an amateur at this, but I am gradually getting better and better. I've got some new projects on the horizon so stayed posted for that. Enjoy!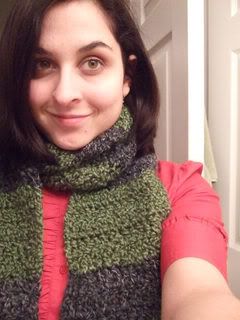 Scarf I made Garrett.